Best Phoenix Wedding Videographers
The results are in for 2016, and 3 Oceans Entertainment is being acknowledged among the best phoenix wedding videographers by Expertise.com, a website offering hiring guides in your state.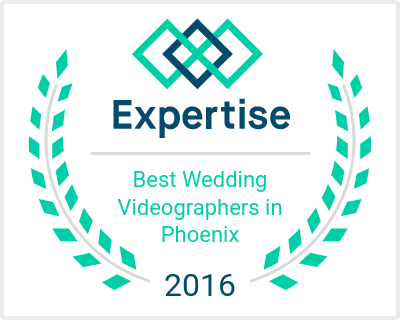 They feature the best local experts in a number of diverse areas, such as hardwood floor refinishing, home appliance repair,  guitar lessons and more, then assemble them on one site and provide the ability to easily contact and hire them. Other resources on their site include articles written by industry experts about home & garden, design & photography, small business, legal, and green, containing tips and advice such as "50+ Best Questions to Ask a Wedding Photographer". It's a simple matter to select the state, city and category to easily find what you're looking for, and compare a number of candidates for the job you've got in mind. The list is chock full of quality vendors providing great service nationwide, and the staff at Expertise is constantly on the lookout for the best local services.
Expertise looked at 336 Wedding Videographers in Phoenix and picked the Top 20, by scoring them on more than 25 variables across five categories, then analyzing the results for a hand-picked list of the best wedding videographers in Phoenix, AZ. Their list of the 20 Best Wedding Videographers in Phoenix Arizona is located here:
https://www.expertise.com/az/phoenix/wedding-videographers
and 3 Oceans Videography is honored to be included. We've been striving a long time to provide top notch video service by telling a wedding day story without the "blandness of raw footage or the incompleteness of highlight reels". Arizona weddings are our speciality, and we pour a lot of love into every one. It's nice to be noticed, and we thank them for including us on their list.
If you're looking for professional services of any sort, try searching their database of approved and vetted experts.
If you're getting married in Arizona and need of Videography, Photography, or Disc Jockey services, please give us a look.